SEO test your online shop (and avoid the drop)
In retail, competition is fierce, prices are pressured, and trends are transient.
Thriving in this market means deploying the right website changes fast. (And never deploying the wrong ones).
SearchPilot ensures every change you make has been tested and proven to build traffic and boost the bottom line.
Stay on trend
When it comes to large-scale ecommerce sites, the slightest change in traffic can have significant revenue implications.
Luckily SearchPilot's proprietary testing algorithm detects even small changes. So, you can test fast and often and know what works before the latest fad becomes a fleeting fashion.
H
ow much would a 1% drop in organic traffic cost Nordstrom?
We did a little digging and found that of Nordstrom's $6 billion annual revenue, around $2.6 billion comes from organic traffic.
Of that, around $2 billion is from non-branded organic searches, which means…
A 1% drop in organic traffic is worth $20m in lost sales annually.
That's why SEO teams in retail need a way to ensure they never roll out a negative change.
SEO A/B testing for retail sites
SearchPilot gives your SEO teams answers specific to your site.
Structured data markup
Which of the many markup options is going to provide the best ROI?
Is it worth adding brand names to FAQ markup?
What about breadcrumb data? Is what was once best practice still the best way to go?
Titles and descriptions
Is it better to include prices in titles? And if you do, should they be dynamic?
What about the brand name? Where's the best position for it?
And should your product description be above the fold for more traffic?
See it to believe it: sign up for a walk-through
Add your details and one of our SEO experts will get in touch to show you a SearchPilot testing program in action
2 mins read
Does removing meta descriptions improve click-through rates?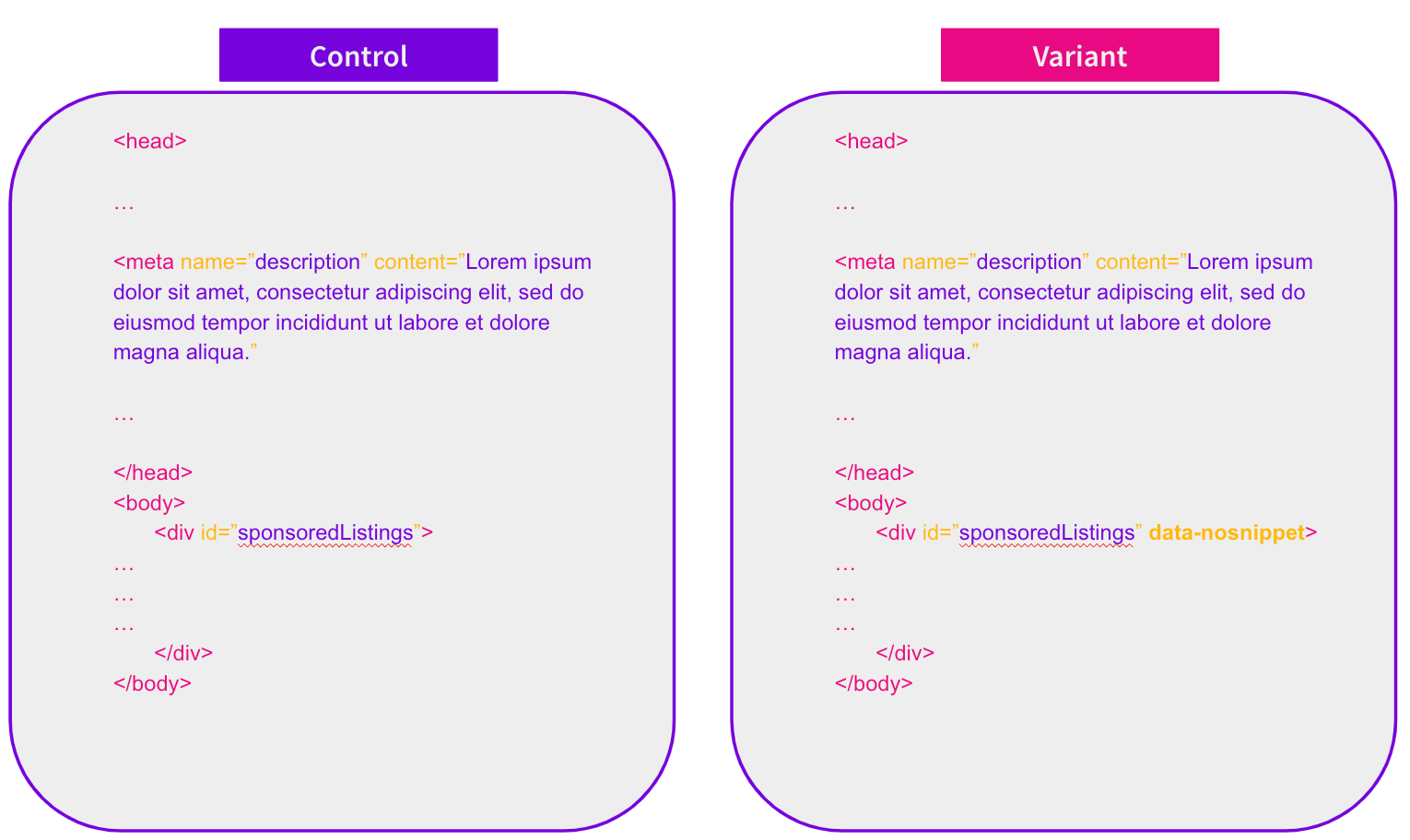 2 mins read
Does adding the data-nosnippet attribute to specific content increase organic traffic?
2 mins read
Does pulling specifications into a standalone section improve SEO performance?
Looking for new SEO test ideas?
Sign up to receive our latest test results - perfect for traffic-winning inspiration.
Read our latest SEO insights
Testing ideas, building business cases, and more - all ready to inspire and inform you!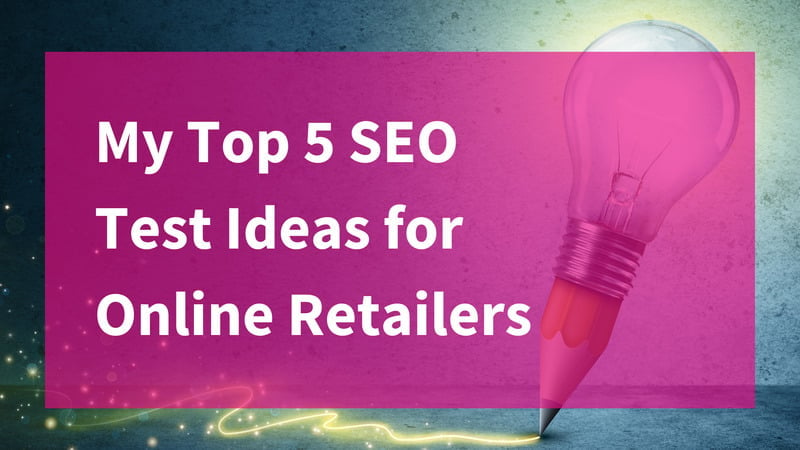 6 mins read
My Top 5 SEO Test Ideas for Retail Sites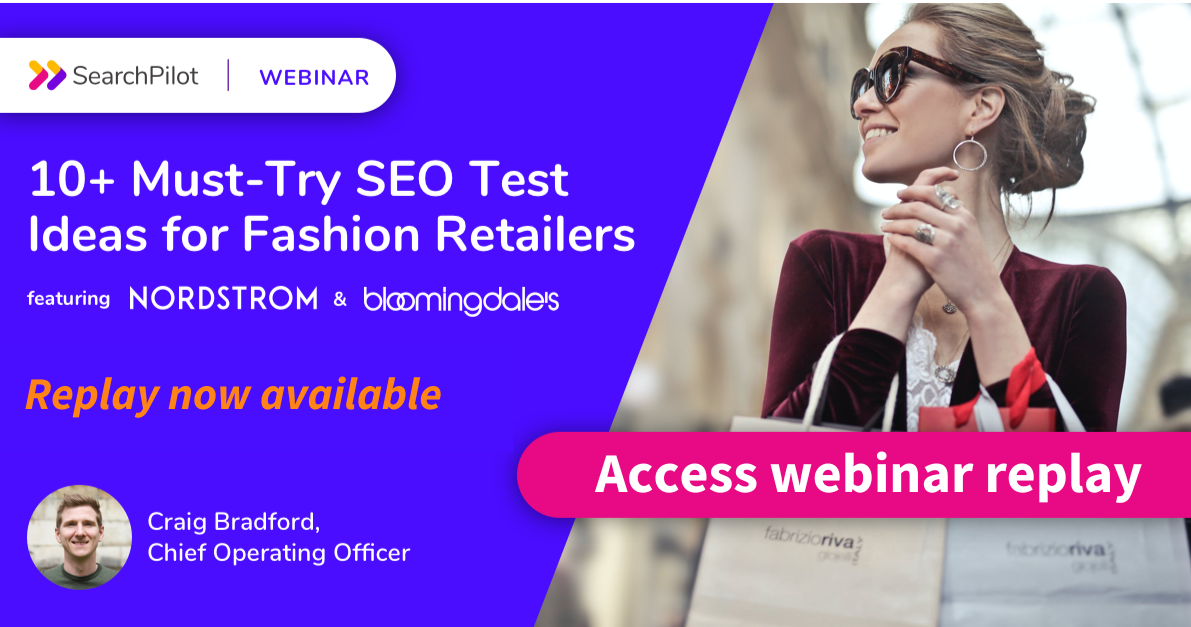 60 mins watch
Webinar replay: 10+ Must-Try SEO Test Ideas for Fashion Retailers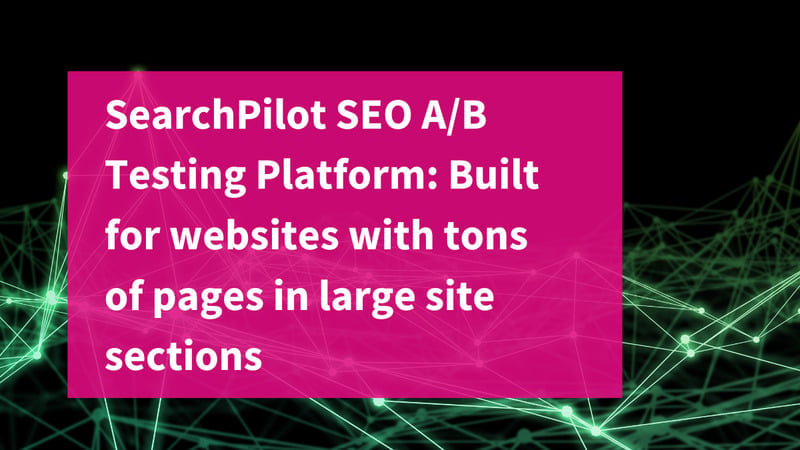 3 mins read
SearchPilot Platform Feature: Run Multiple SEO A/B Tests on a Single Page Type Simultaneously